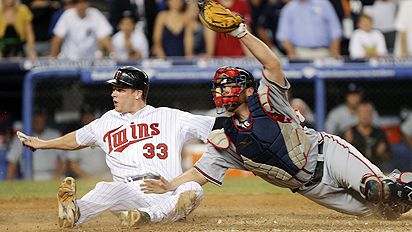 Well, the game ended 16 minutes after Nick made that post. Finally after 14.5 innings, the game ended when Michael Young hit a sacrifice fly to score Justin Morneau on a very close play at home, shown above. Bud Selig had to be thinking about ending this one in a tie. Besides Tim Lincecum, every pitcher pitched! The game took 4 hours and 50 minutes, and by the time it was over less than half the fans were still there.
The NL started the scoring in the 5th with Matt Holliday's solo home run off of Ervin Santana. They got another run with Lance Berkman's sacrifice fly scored Hanley Ramirez in the 6th to give the NL a 2 run lead.
The AL tied it up after a 2-run shot by J.D. Drew, the eventual MVP. In the 8th, Adrian Gonzalez hit a sacrifice fly off of Jon Papelbon to score Miguel Tejada and give the NL All-Stars the lead. During the home half of the 8th, Evan Longoria doubled to left field to score Grady Sizemore and tie up the game at 3.
In the 10th, the AL had the bases loaded with no outs, but could not capitalize. Then in the 11th, Dioner Navarro was thrown out at home by a perfect throw from Nate McLouth to Russell Martin and the game stayed tied at 3.
Then, in the 15th, the AL had the bases loaded with 1 out, when Michael Young hit a flyball to Corey Hart, whose throw took two hops to reach the plate and Justin Morneau barely beat the tag, and the AL won, 4-3.