We're lookin' for a new start. And like the Tampa Bay Rays, we're hoping that a new name can help us out here.
So this blog is now called Calling the Shots. The name comes from Zak, oh, excuse me, "The Profit- Z", his old blog on AOL which he no longer runs (does that make me "The Revenue- N? I don't think so.) I don't know what point I am getting to, I guess just letting you guys know we are still apart of a site called FYI Sports Fans, which is currently being worked on but you can check out the forum at http://fyisportsfans.net. Anyway, enough of that.
* About an hour ago Jermaine O'Neal was traded to the Toronto Raptors. Some noise before the draft tomorrow night?
* Speaking of draft, Pat Riley has implied that they are probably going to skip over Michael Beasley with the No. 2 pick (assuming that Chicago takes Derrick Rose, which they will). I think he's out of his mind, Beasley is Elton Brand and then some, but it may just be a ploy and hopefully they do take him. You can't pass up a talent like that, no matter how bad you need a point guard to compliment Dwayne Wade.
* Fresno State won the College World Series yesterday (it's 1:00 am). To me, this needs to be publicized more. Yeah yeah, college baseball isn't as popular as the other college s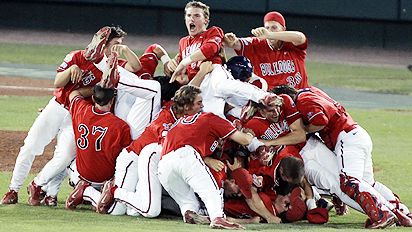 ports, but this "postseason" I guess has been nothing short of amazing and what Fresno has done is unbelievable. As I said in an earlier post, a No. 4 seed is like the equivalent of a 13-16 seed in the NCAA Basketball Tournament. We know how big a Cinderella like that is, well the shoe fit tonight with Fresno. Congratulations.
* Germany ousted Turkey's run in EURO 2008 today, winning 3-2. And because of a power failure,
none of us were able to see it
.
* Gary Sheffield just won the game for the Tigers. Slowly crawling up to .500 and this is a big win considering they waited out a 2-hour rain delay and won it in this fashion.
Pic from Wimbledon